July 22, 2013 – Zimbabwe
Travelling with my friend, Betsy, from Namibia, driving in her car. Arrived in Zimbabwe, the African country that has been in serious trouble for years. Their economy went into complete meltdown in 2008/2009, and it is having elections on the last day of this month. Talking to people, hope for change is strong! Bulawayo, today's destination, is a vibrant city full of life and more than I expected to see. Shops are full now which was not the case two years ago.
We dined at the historic "Bulawayo Club " where till 7 month ago only men could have a drink at the lounge. It was pointed out to us that women are now most welcome to sit there and enjoy one of their cocktails. The waiters, the ambiance, the decor, a fire burning in the spacious hallway, all was certainly impressive.
I felt enveloped into another time where the wealthy had a place to come and likely talked about their wild animal hunting. The horned trophies on the wall spoke for themselves. Unfortunately, we could not get a room there because they had a mining convention in the city. Yet the nearby Rainbow Hotel had room for us. It is a large, modern hotel not at all to compare with the Bulawayo but comfortable to rest the body after long hours of driving and the elaborate process to cross the border from Botswana into Zimbabwe. We longed for a gin & tonic after that. 🙂
Phew! Glad we were able to charm the border guys to not look at what goods we had in our fully- loaded vehicle. Off to breakfast in a few minutes and then a bit food shopping and back to driving to our desired destination, "Hippo Haven ".
July 29, 2013 – Hippo Haven
A landscape of rocks captures my eyes. Big boulders are seen in the distance. Clusters of mud and brick huts are located near the road. People walk on the road side to unknown destinations. Cows, sheep and donkeys cross the road where high speed cars zip by. Huge boulders tumble on top of each other creating a spectacular sight of hills for miles on end. The daylight is coming closer to its end as we pull into the dirt road leading to Hippo Haven.
The conservancy has a guard, and we had to sign us in before being able to go on. Bumps rattled our car back and forth for long stretches, the sun was going down and Betsy, and I wondered how we would find the right turns we needed to take to reach Karen's house. We missed having more detailed directions. Long story short, after a couple of wrong turns into the wilderness we intuitively managed – slightly exhausted – to find the place in the dark. Luckily, the moon provided some welcoming shine.
Our host had a lovely cottage for us to stay at with a view down to the Turque river. Occasionally, we could hear a grunt or snort echoing our way. Hippo Haven is a beautiful place where the animals can feel relatively safe. Karen is a true warrior for the cause. Living in the bush with constant challenges to face takes a lot of courage and determination.
Poaching is a major issue to deal with, and her scouts have come into dangerous situations. Shortly before we left, two zebras had been snared and they chased the poachers catching one of them. Then another poaching took place the next morning. Phew!…. A group of hippos dozed in the sun on the sandy river bank when we viewed them from across the river. Knowing Karen's voice intimately, the hippos (all have been named by her over the years) stayed put enjoying the warmth of the day.
It is wintertime in Zimbabwe, and the temperature goes down to cool at night. Crocs kept swimming nearby and we made sure our feet stayed away from the immediate edge of the river. I feel friendly towards them, and some of you know that I have taken a liking to all kinds of reptiles.
One baby hippo bravely went for a swim leaving the protection of his family. It seemed this young male had to show his courage. Afterwards, he mingled again with the big bodies on land who all pleasured being in physical contact. Like the elephants this short-legged and stocky-built water & land creatures have a need to be in close body contact.
July 31, 2013 – Election Day and Elephants
Zimbabweans headed to the polls today, and all went peaceful according to the evening news. It will take a few days to get the results. Skeptics say nothing is going to change. Mugabe will stay in power. Others have great hope to finally have a change in government.
Returning from visiting Hippo Haven, we are able to stay this time around at the historic Bulawayo Club in the city of Bulawayo. It was quite a treat but a mixed one. It felt like sleeping in a museum. The walls are filled with historic pictures of powerful men who left their mark on the country and the white rule of past times.
Hunting trophies decorate certain rooms and hallways. Elephant-foot garbage containers (ugh!) are placed at the doors to this bar that only a few month ago opened its doors to allow women in. Till then, the club was for men only and was dominated by white men. Pictures of a line of chairmen are hanging on one wall of the large bar room.
Rob, the manager, gave us lots of historic details. I was certainly captured by the whole colonial ambiance besides the animal trophies, which are dreadful. We were wonderfully attended to by the friendly staff, and the whole experience will certainly be warmly remembered. Oh, and there are the crisp white linens we have been sleeping in at this hotel …… just lovely.
A less-than-four hour drive takes us to Hwange National Park, which is two hours south of Victoria Falls. It is Elephantland, and they are everywhere. If you don't see them, then you see the dung piles they left behind.
Once again, I wanted to meet the "Presidential Elephants" that had been put under President Mugabe's protection many, many years ago. I saw them last in 1997, and I carry very profound memories of these amazing mammals throughout all these years. They are very comfortable with people and come and stay right next to the car. One could touch them….so close are their bodies. I am totally thrilled to be in their presence once more and feel the trust they have in people, a trust I hope they never have to lose.
The Safari hotel where we are staying has a water hole, and wildlife can be seen almost all day and night. We are watching lots of elephant every night. Awesome! And then there is the sound of the lions at night. That roar that frightens many people. I love to listen to the languages of all the wild creatures out there as my head takes rest on the plush bed pillows …….
August 1, 2013 – Victoria Falls
On the way to the falls, we stopped at the Painted Dog Conservation. We admired the education room with all the wonderful details of the endangered dogs. Well done, I must say, and they deserve great applause. At the nearby rehabilitation area we observed three of the dogs. We learned that the world's only painted-dog hospital has been established on site.
Unfortunately, we missed meeting Greg Rasmussen who started researching these animals in the 1980s. Relentless killing by humans has pushed this predators to the brink of existence. It was beautiful to read about the way they live. Luckily, we saw a pack of them near Karen Paolillo's Hippo Haven.
Red dirt lined the pavement of the road. Trees are showing the colors of autumn, and at the same time, other trees and bushes are blooming. Puzzling to see it that way. The Baobab tree also makes its impressive presence known by greeting cars right at the boundaries of the road. They are huge and absolutely stunning!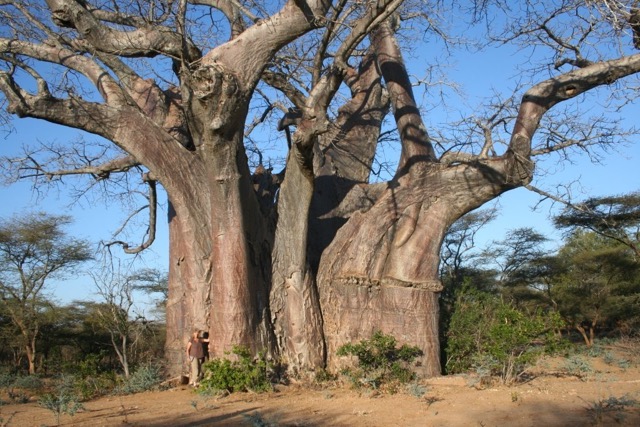 Crossing signs warn to watch out for elephants alternating with ones for painted dogs. As we approach the outskirts of the town of Victoria, we can hear thundering waters. Things start looking familiar. Finding a place for the night to stay was easy. I think the one we picked is the same one I stayed at with my husband, Rusty, back in 1996. Gosh! That was a long time ago!
Strolling through town seeing new shops and restaurants, we pick an inviting Spanish restaurant for dinner. Delicious food along with a glass of Sangria made my day :-). Two black-cat siblings cozied up to our table seeking being stroked in passing or doing lap jumping.
No news on the election results yet. They are suppose to come in not more than 5 days. I am very curious. People had red ink on their little fingers, showing that they had voted. Conversations with the locals are of a most friendly nature, and I am truly happy that Zimbabweans have not lost their charm.
The power of water thundering down is an awesome sight. It is simply breathtaking to stand on the edge of cliffs you can walk out onto and look down into the white, foaming masses of water that look like they are boiling. Fine sprays of water are wetting everyone who passes certain areas. Tiny blue flowers frame the path at one point. The vegetation benefits from the constant moisture providing a green landscape in stark contrast to the otherwise very dry, scrubby environment.
High tea at the beautiful colonial Victoria Hotel became our late afternoon delight after walking along the falls. A perfect treat to end the day with a little taste of a long gone time. Ready to leave Zimbabwe we have a cup of coffee in the warming rays of the morning sun, a people's chat, a last quick buying trip and off we go …..
One guy said if there is election fraud it will effect the town and people may leave again to neighboring countries. The economy, based on the US dollar since the late nineties, has ended the craziness of needing paper money in million and billion zim denominations, but at the same time it brought high prices. Similar items I bought in Kenya cost almost three times as much.
August 6, 2013 – Botswana
Easy border crossing from Zimbabwe to Botswana. After a few miles we ended up in Kasangula, the jumping-off place before entering the famous Chobe National Park. Located on the Chobe river, beautiful lodges invite you to stay and enjoy the river setting for sunset along with a drink of your choice. The evening light is just gorgeous!
We booked an afternoon river cruise to see the animals roaming the river banks and islands in the midst of all the various waterways. The boat glided into pockets of greenery-edged water to view birds – and crocodiles that dozed lazily in the sun, not moving an inch, appearing as if they were dead.
Hippos too can lay motionless, squeezed tightly together on the river's edge. Elephants make up the most stunning images to look at as your eyes scan the gorgeous setting. I saw them grazing, communicating and playing. Little tiny babies having a ball splashing in the mud pits rolling in mud with legs wriggling joyfully back and forth in the air. Happy pictures, incredibly adorable!!! 🙂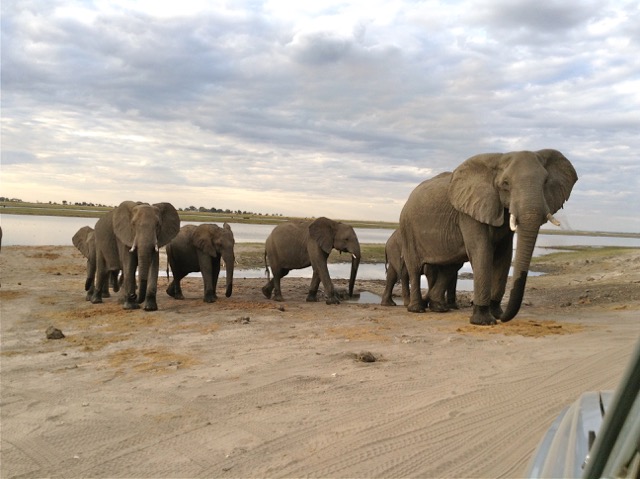 Next day we went by car to explore the park, and we had to shift into four-wheel drive to manage certain sections of the sandy roads. We came across lots of elephant families that felt quite comfortable despite occasional cars moving by slowly. We watched some families for a long time as we both never got tired of being in the presence of our dear ele friends. The river area provides much of what an elephant needs for general well-being. It could not be clearer to see that.
Driving again long distances, we crossed a bit of farming, like huge sunflowers that looked totally dried up. We spotted elephants a couple of times, and elands and a giraffe grazing on a tree right next to the road. Another time ostriches strolled at the side of the road with their necks contrasting up to the sky. Termite structures built like giant penises grace the scrubby landscape. Pale-colored kind of gray-white, they make you smile.
August 9, 2013 – On the way back to Namibia
As far as the eye can see, we encountered more of an impressive vastness of space. Miles and miles and miles …..of this awesome scale of space. With all of this wide open landscape of Botswana and Namibia, one tends to think human elephant conflict should not be an issue. Yet this is a very dry land with few water sources, which is extremely hot for many month of the year. Therefore, elephants enjoy where people live, and resources are more favorable in the Caprivi Area, in northern Namibia. Nothing of this compares to the intense conflicts taking place in India, where I will be going later this year. As you can tell, my thoughts keep being centered around the elephant theme.
Ostriches are left and right of the road, picking through the grass for tasty items and running off at a gallop-like pace when a car intends to stop. It made it hard to take pictures of these towering birds. Warthogs on other stretches of the road – tails up – can tell their family where to go when moving through the tall grass. They are uniquely designed that way and funny to watch. We are moving along the outskirts of the Kalahari , which stretches from Botswana to Namibia and to South Africa. There is a soulfulness to this landscape, its colors, its air, and I can only hope that humans have the willpower to preserve it.
After crossing the border to Namibia, we ran into some seat belt troubles and went to a Toyota dealer who kindly, and free-of-charge, fixed it. That was also the town we stayed for the night. It got very cold that night due to a cold front coming in from South Africa. Our room at the pleasant Gobo Lodge had 50s-like furniture with windows looking out over an area with occasional antelopes wandering around.
No elephants exist in this region of Namibia anymore. It was said that farmers did not tolerate them – whatever that means…..? An Elephant structure at another nearby lodge paid tribute to the last elephant that roamed the area of Gobabes and where town women in colorful long dresses with matching head gear add a fascinating flair to the streets.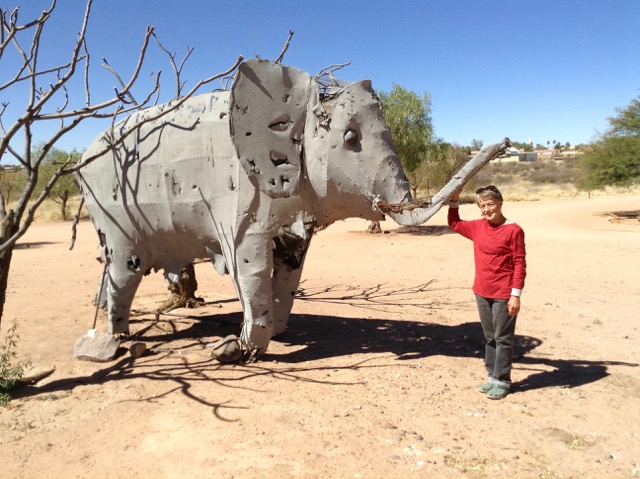 Then there are the churches and street signs that remind the visitor of a past German history. At the towneplace, a half-moon shaped building houses one barber shop after the next, all full of men. Next comes the section for the woman and again one shop after the next. What a sight ! 🙂 The ladies created beautiful hairstyles, and many did all of this outside, in front of their shops.
Leaving this town around lunch time, the ride to the Windhoek Airport was a short one, just a bit over one hour of driving. Over snacks on the green airport lawn, Betsy and I reflected on our distances. Wow! We drove 5000 kilometers. Bye, Bye Africa !!!